The cornerstone of the Small House adventure is our red Piteba oil press. Handcrafted in the Netherlands, this small machine is how we got started pressing all of the oils that we offer. Heated by a small kerosene lamp, the press is hand turned without the use of electricity. Because of this, all of our oils were pressed in small batches and therefore are always guaranteed to be fresh. Even though we have since upgraded to a larger press, we still believe in producing our oils in small batches and providing our customers with the freshest oils possible. Check out our selection of oils below.  They are all culinary grade seeds but many have topical benefits.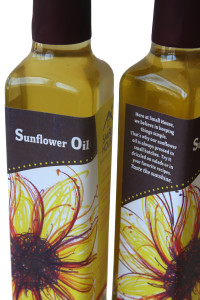 Sunflower Oil
Use delicious sunflower oil in place of any other oil in your favorite recipes. Great for sautéing, baking and even as a salad dressing.   Some people apply sunflower oil directly to the skin for healing wounds, skin injuries, psoriasis, arthritis and as a massage oil.
$10
8.5 oz bottle
Vitamin E Low in saturated Fats
Sunflower oil can be used to run diesel engines when mixed with diesel in the tank.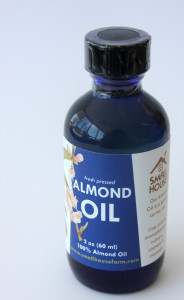 Almond Oil Some people apply sweet almond directly to the skin to soften chapped skin, to soothe mucous membranes, and to kill germs.  A very popular massage oil and carrier oil for essential oil blends.
$6
  Vitamin E, Omega 6
Almonds and almond oil date back to pre-Biblical times and were mentioned in the Bible as well.  The United States, Spain and Syria lead in almond and almond oil production today.
Hemp Oil
Breaking News!  Small House Hemp Oil is a Good Food Awards Winner for 2017!  This exciting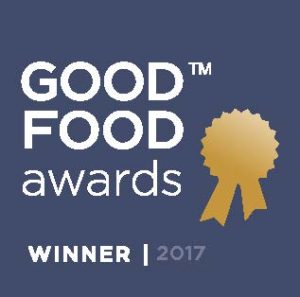 award recognizes America's tastiest nut & seed oils that hold to the highest standards of quality & sustainability.
With a pleasant nutty flavor, Hemp Seed Oil is ideal for use in salad dressings, mayonnaise, dips etc. Not suitable for frying as the heat reduces the benefits.
May be taken as a nutritional supplement for general health and well being.
Hemp oil can also be used externally on the skin, easily absorbed and moisturizing, suitable for healing poor skin conditions.
$8
4 oz bottle
Currently Unavailable – Check back soon
$15
8 oz bottle
Currently Unavailable – Check back soon
Hemp Seed Oil is such a rich source of both LA (Omega 6) and LNA (Omega 3) in balanced proportions, and contains all of the essential amino acids.
Even in ancient times people are said to have used hemp seed oil to cleanse and purify themselves.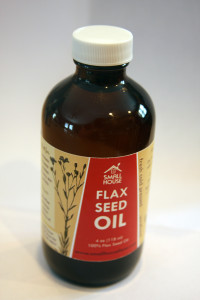 Flax Oil
Flax oil is a very popular addition to smoothies and as a nutritional supplement.  Not recommended for cooking as heat can turn healthy fats into harmful ones, so add to foods after cooking and just before serving.
$10
8 oz bottle
$5
4 oz bottle
Best source of Omega 3's, good source of omega 6, protein, fiber, Vitamins B,C,E and carotene.
Flax seed was cultivated in Babylon as early as 3000 BC. In the 8th century, King Charlemagne believed so strongly in the health benefits of flax seed that he passed laws requiring his subjects to consume it.