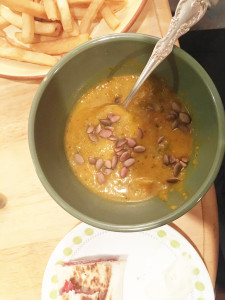 I made some delectable soup the other day that I need to share!   Disclaimer:  I will not be giving you a recipe with specific numbers or exact quantities of certain ingredients.  I don't cook like that.  I cook like an old Grandma would –  things go in the pot by the handful or by the 'piece'.  Ex:  2 medium carrots, 1 onion, large pinch of salt, etc.
Went to the pantry to find 3 butternut squashes starting to mold.  Figured I better find something to do with these squash before I lose them!    Cut off the mold and threw them into the oven for about 25-30 minutes, or just until they they were soft enough to scoop out.
While the squash was cooking, I cut up onion, carrots, garlic, celery, and a couple apples and started to cook those in a pot.  The apples I skinned and diced.  Then just like traditional soup, I added a little water and chicken base and let it cook for 1/2 hour or so.
I added some spices here too; salt, pepper, cinnamon, nutmeg, celery seed
Once I had the squash scooped out I added that to the soup base and let it cook for another 15-20 minutes.  Then I used my handy dandy immersion blender to blender up the soup all while it stayed in the one pot!  No mess, easy peasy clean up.  If you don't own an immersion blender (get one!) you can put it in a regular blender or food processor and blend it that way, it just tends to be harder and more messy!
That's it!  Ready to eat in about an hour !  It was great!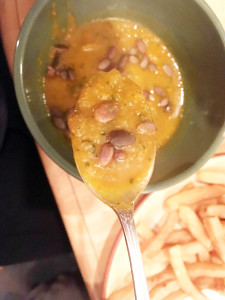 After serving, sprinkle with Small House Pumpkin Seeds for a great crunch to your creamy smooth soup.  Awesome combo.
Although I used butternut squash, this could be substituted with any other winter squash that you may have on hand.
Recipe details: 
3-4 small/medium sized squash
1 onion
3 medium carrots
3-4 garlic cloves
4 celery strips (haha not sure what thats called)
3 apples
64 oz water with a couple scoops of chicken base
Sprinkles to taste of :  salt, pepper, cinnamon, nutmeg, celery seed