Small House Seed Collection
Small House has always offered a number of nature oriented education programs, some of which focus heavily on the art of seed saving. Through this, we've been lucky enough to travel the Midwest to share our passion, meet seed keepers, find new seeds and learn their many stories.
Now we'd like to share these seeds and their stories with you. We hope to be able to offer an interesting selection of seed and perhaps, in turn, this page will help us to maintain our seed education efforts in the future.
Due to shipping costs, its easier to have you purchase the seeds separately from the other Small House products.  This allows us to keep the cost of shipping much more affordable for our customers that are only interested in purchasing seeds.
We'll be adding more seeds throughout the winter .. Check back later for more varieties!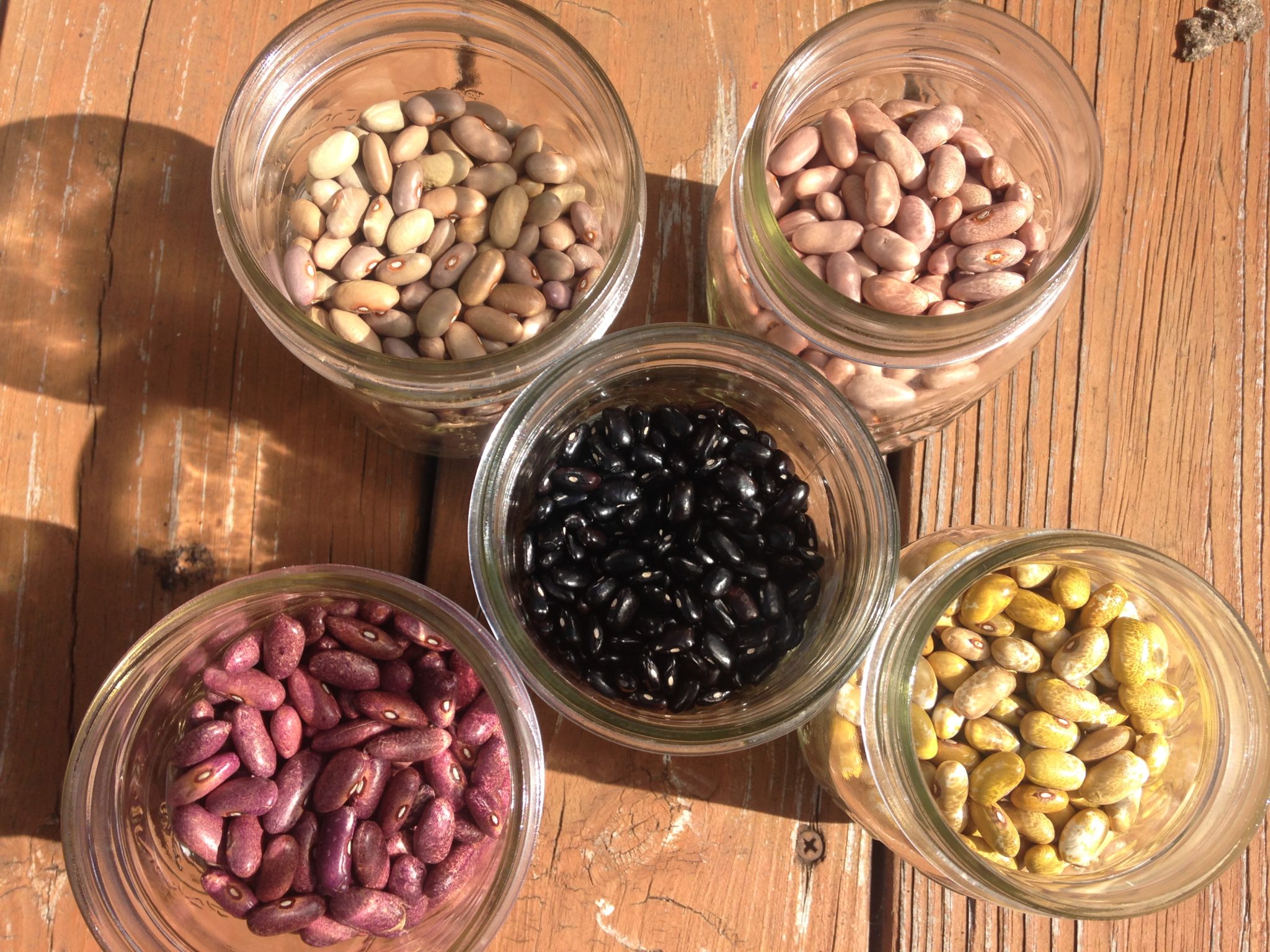 [captainform id="767150"]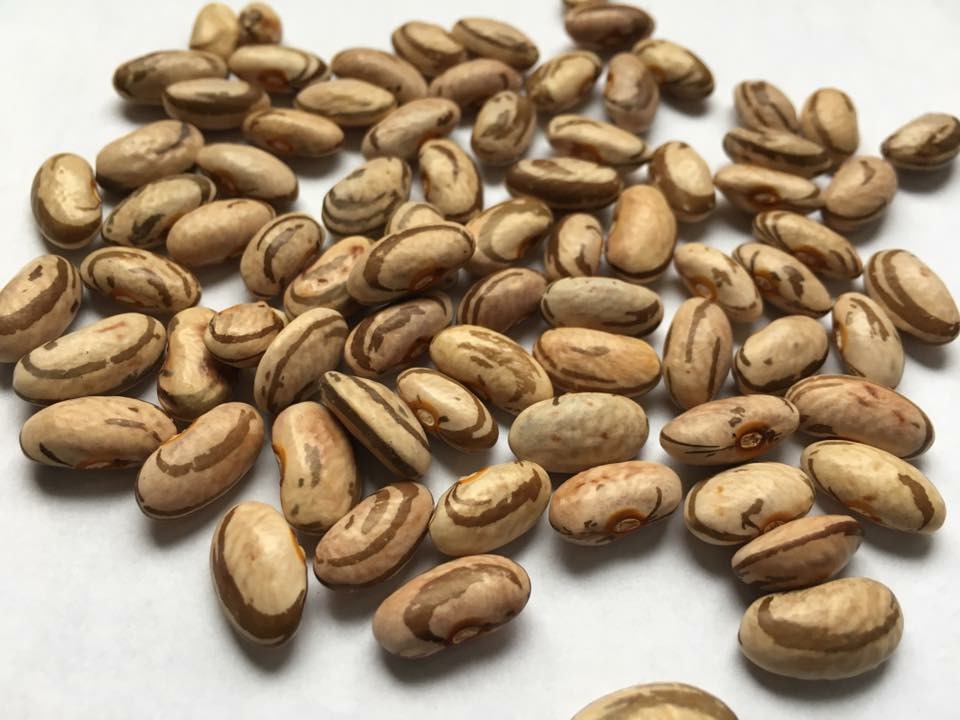 Kermit's Smoky Mountain Pole Bean
This historic pole bean variety was grown in the Smoky Mountains of Tennessee for five generations by the Caughron Family. The seed was brought to MI 25 years ago by a couple that received the beans from Kermit Caughron, the last man to live in Smoky Mountain National Park! We are honored to be offering these special seeds for a limited time. Very rare!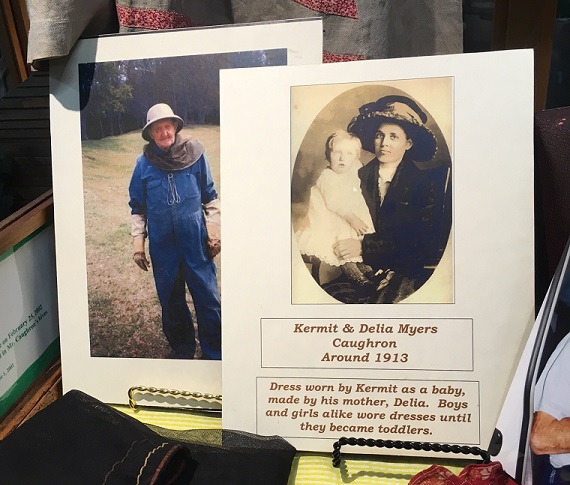 Pictures of Kermit on display at the Cade's Cove Museum in Marysville, TN
These seeds will only be available for a limited time! Proceeds from the sale of this unique bean will help to fund the completion of Ben's first published book of seeds and stories. Thank you for your support!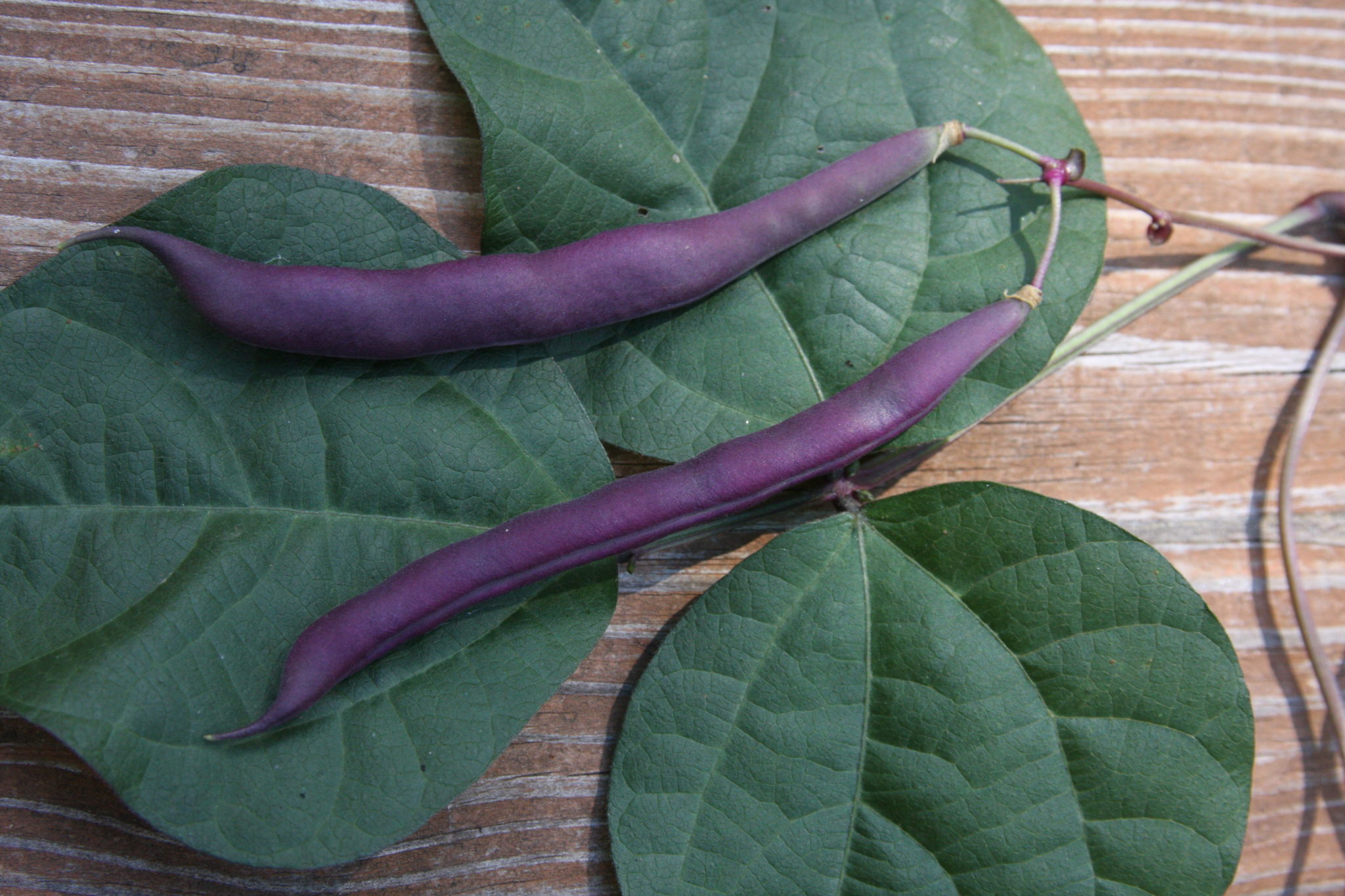 $3.00/ packet –  min 20 seeds
Grandma Robert's Purple Pole Bean
These very productive pole beans are said to come from Grandma Roberts, a bean collector who lived in Pelham, Tennessee. We grew these beans here at Small House and were amazed at the incredible harvest all summer long! Great fresh and for canning.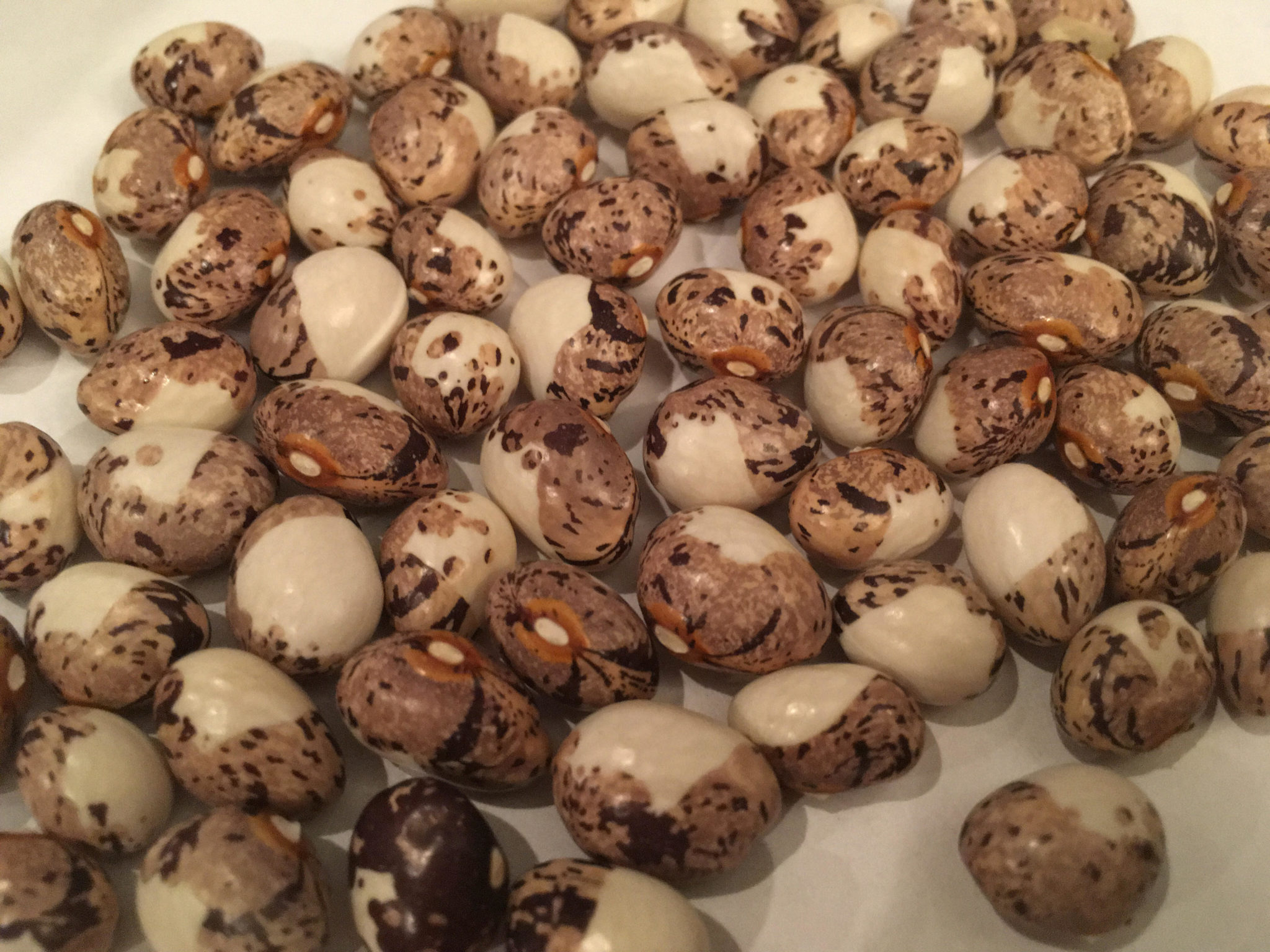 Fagiolo de Angelo Impero
A beautiful and productive pole bean originally from Italy. We first grew this bean for the Gardens Across America project in 2015 and we were very impressed. Great as a snap bean as well as a dry bean.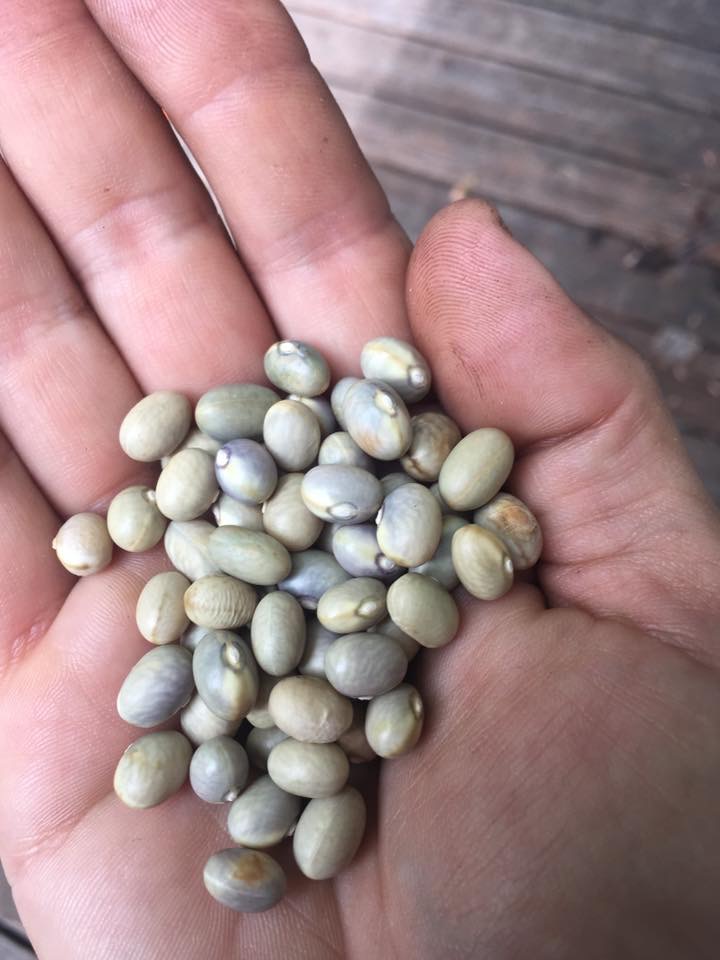 $3.00/ packet –  min 20 seeds
Bomba
A beautiful and compact bush bean originally from the Ukraine. Our seed was given to us by Botanical Explorer Joseph Simcox in 2015. Very productive and great for fresh eating!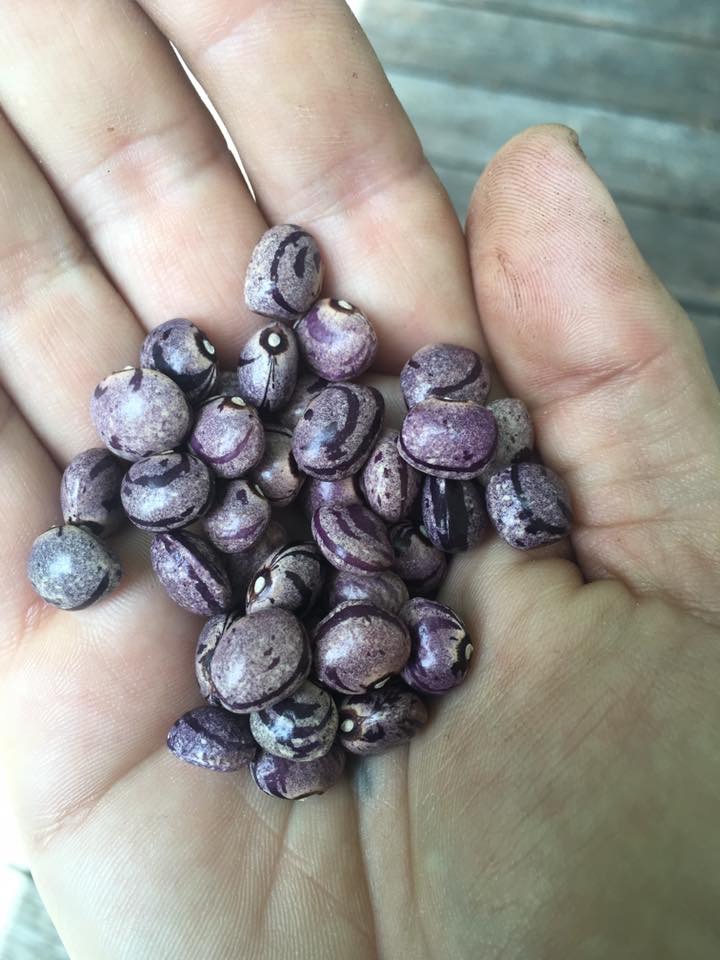 Cranberry Fliederbarben
One of our favorite beans to look at… and it's quite tasty too! This variety held up well in the garden this year despite the unusual weather we experienced. Resilient, beautiful and delicious.. You couldn't ask for anything more in a pole bean!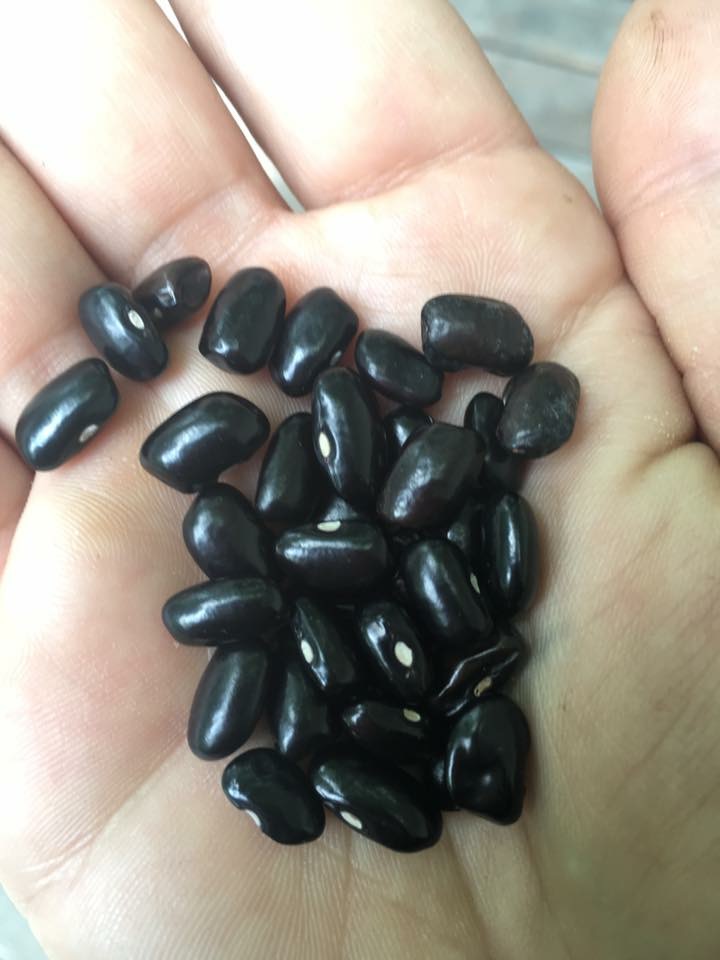 $3.00/ packet –  min 20 seeds
Cherokee Trail of Tears
A very well-known black bean with an equally well-known history. This variety holds a special place in our heart as it was the first seed we ever saved! It has since become a regular in our gardens, not just for sentimental reasons but for being such a heavy producer year after year! Pole Habit.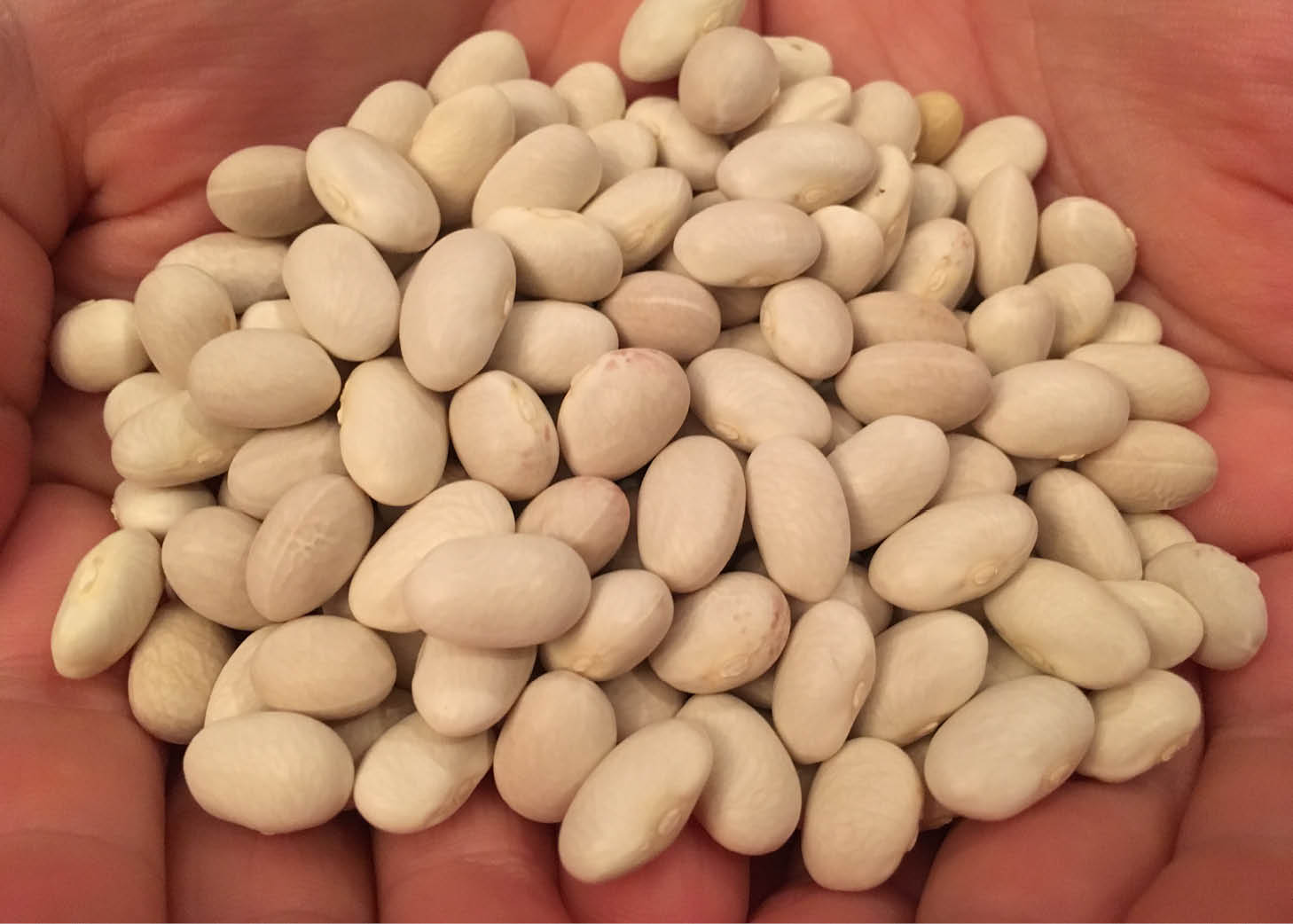 $5.00/ packet –  min 10 Seeds 
Deseronto Potato Bean
A very unique half runner bean. Truly a Canadian Heirloom that was grown by the Mohawk Natives long before the arrival of European settlers. A large white bean that resembles a potato, traditionally used to thicken corn soup.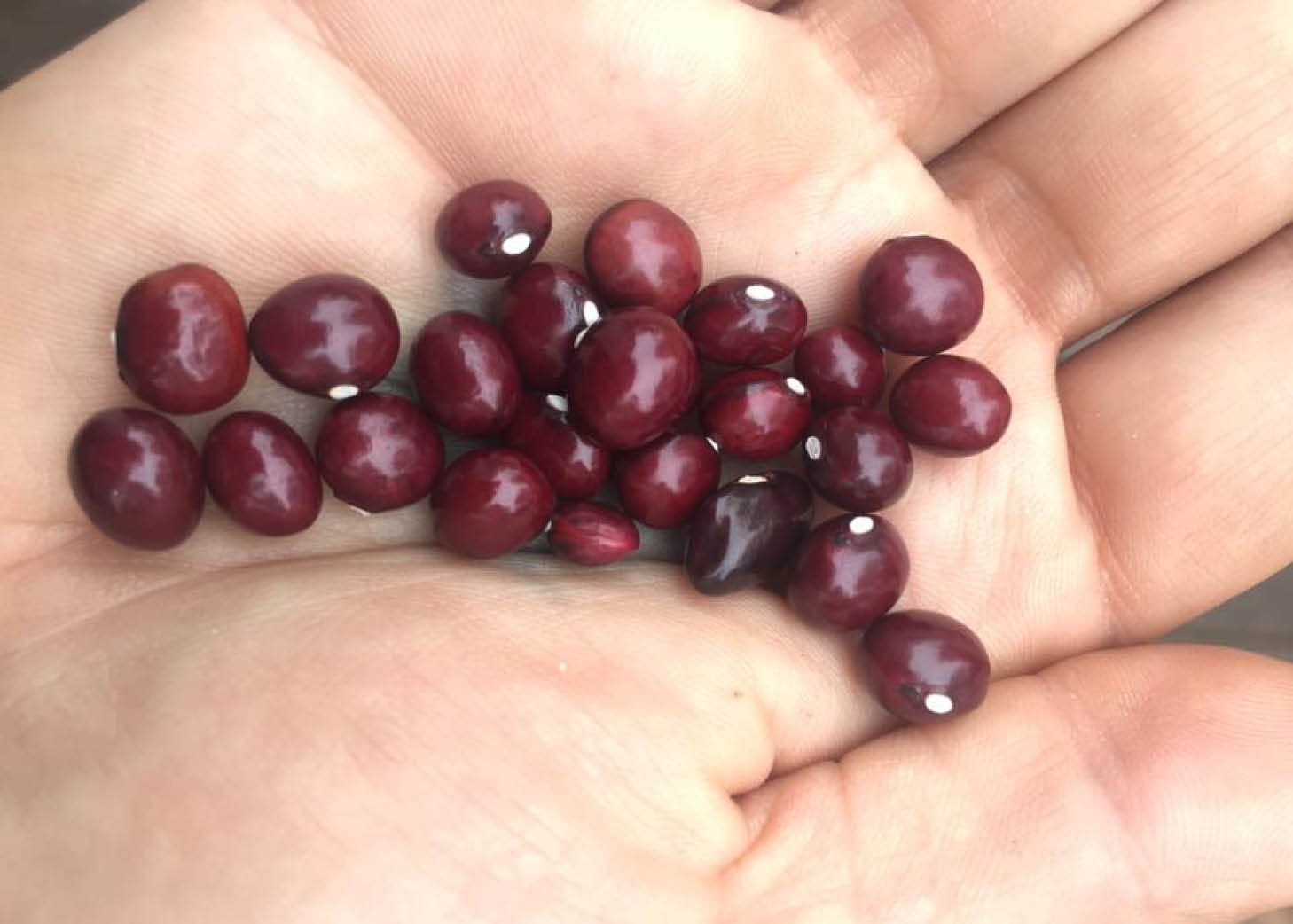 Grape
This is an absolutely gorgeous fall bean originally from the Appalachia region. These beautiful, round purple beans are wonderful as fresh shelly beans or as dry beans. Our original seed stock came from our good friend Debbie Groat of Saverine Creek Heirloom Seed Jewelry of Rhodes, Michigan. A wonderful pole bean!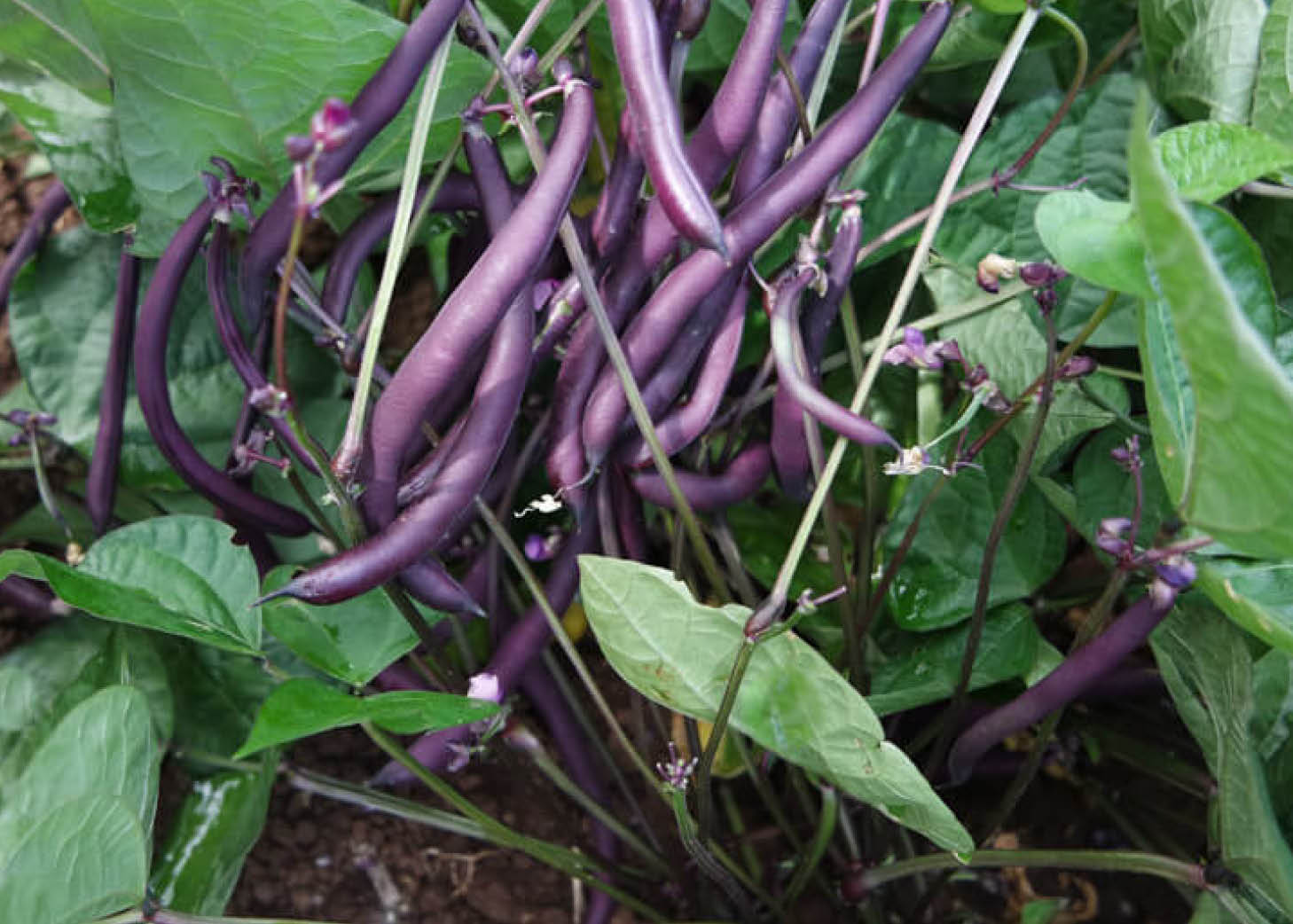 $3.00/ packet –  min 20 Seeds 
Robert's Royalty
A very early bush bean from breeder Robert Lobitz. This tasty purple snap bean is a delicious addition to any garden!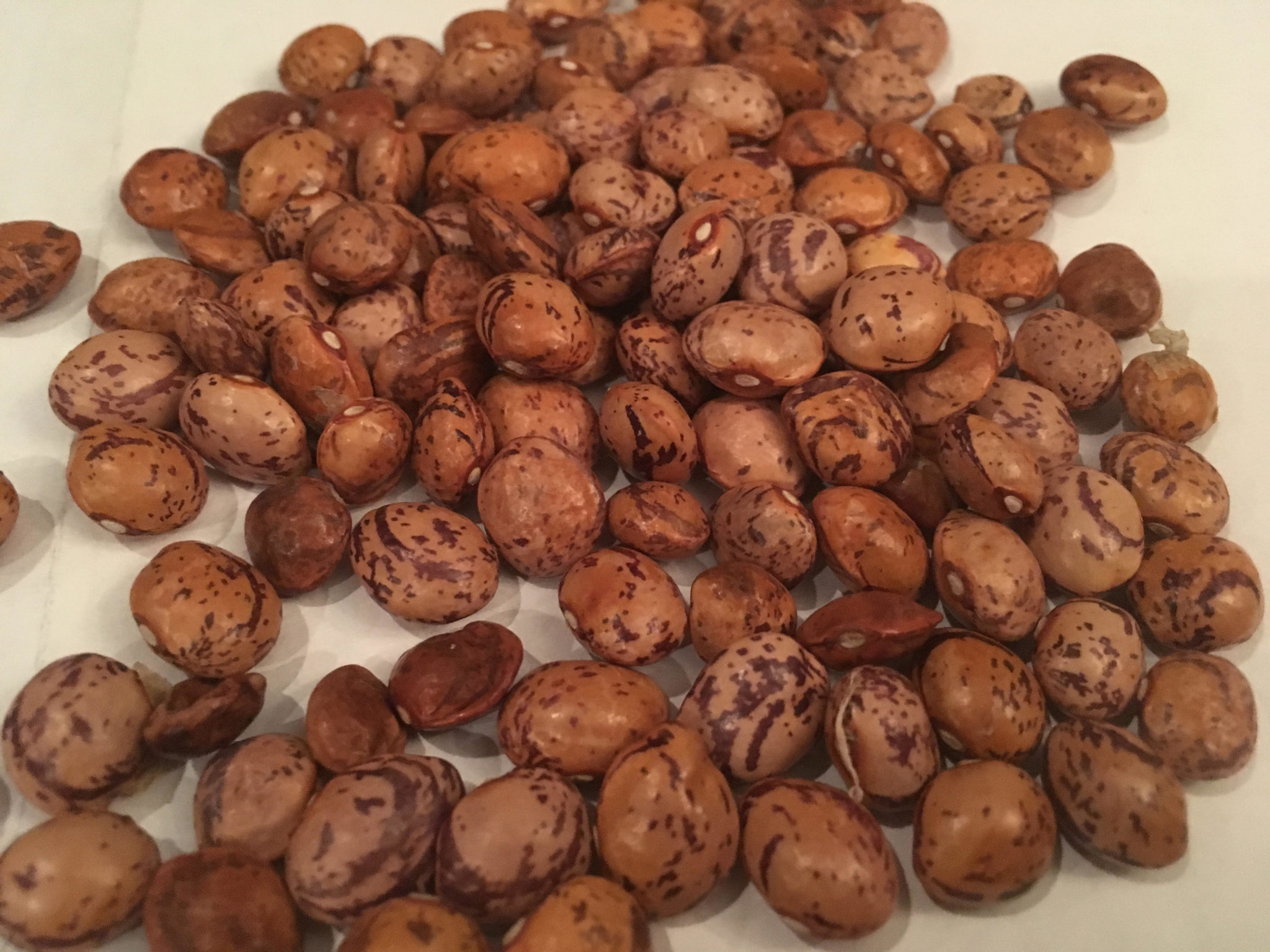 $3.00/ packet –  min 20 seeds
Red Written
A beautiful Italian pole bean that resembles a cranberry type. Very fast growing 8 foot vines are quite vigorous and produce many pods. A wonderful fall bean.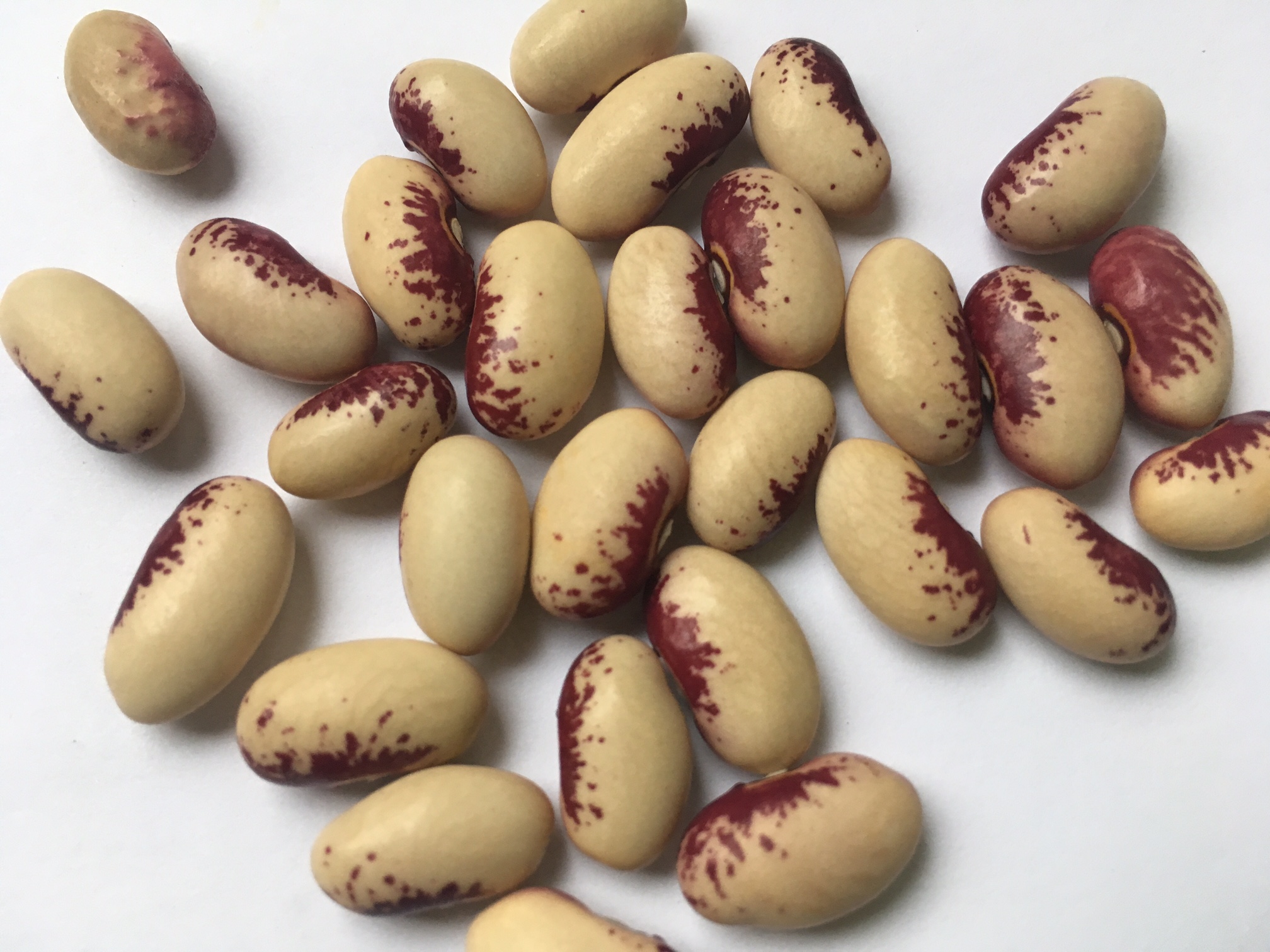 $3.00/ packet –  min 20 seeds
Rose Creek Beauty
An early maturing bush bean from breeder Robert Lobitz. Makes a great soup bean but also nice as a fresh snap. Such a beautiful variety!
$5.00/ packet –  min 20 seeds
Monk's Beard
Also known as Barba di Frate. An incredible pole bean landrace from Northeast Italy. Our seed stock was grown for us by friend and seed librarian Pam Quackenbush of LTPL Grows. Proceeds from the sale of this bean will go to support our seed library work.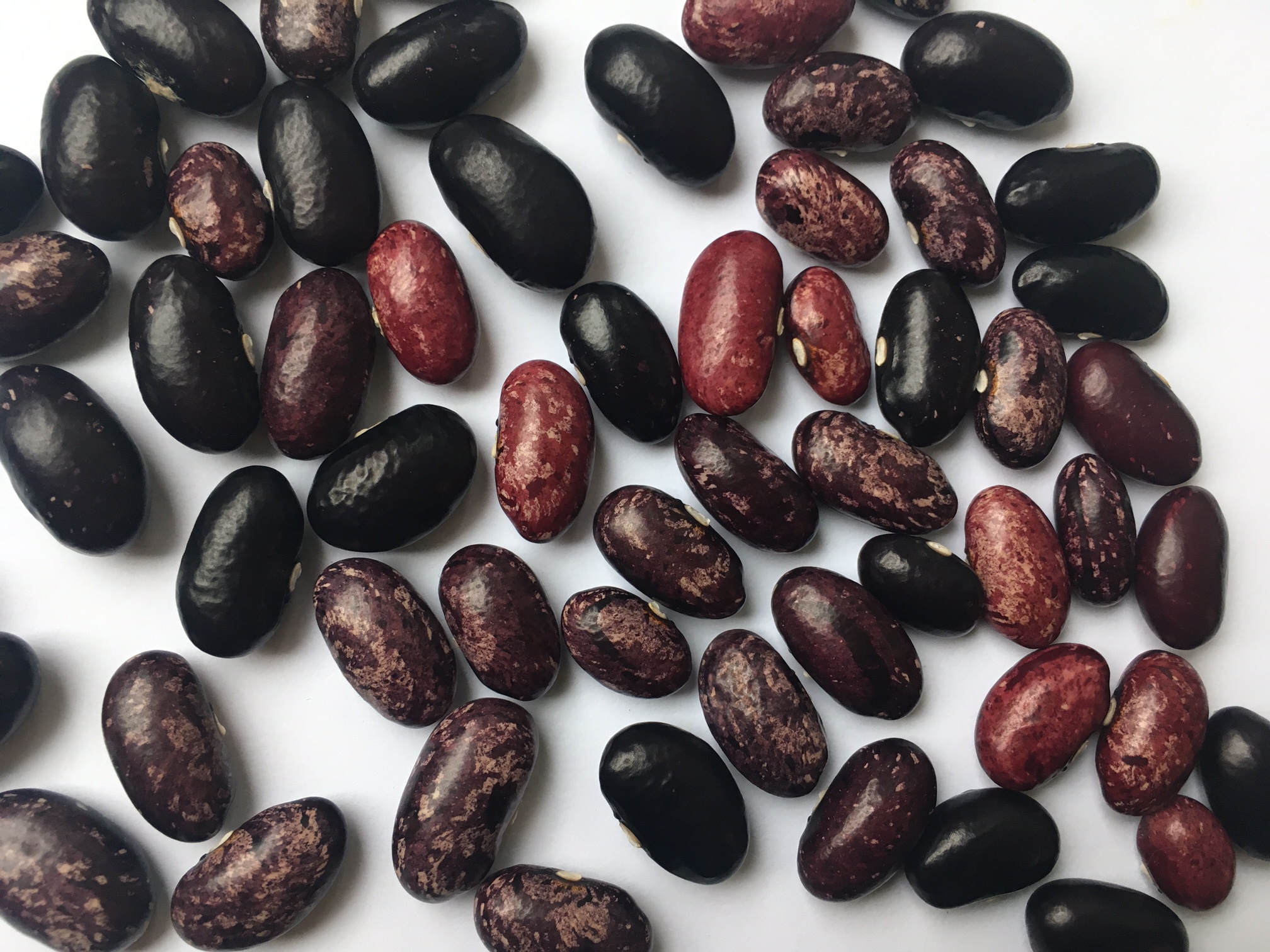 $5.00/ packet –  min 20 seeds
Ijevan King
This striking landrace variety was originally brought to us from Ijevan, Armenia by Botanical Explorer Joseph Simcox. Our supply of this beautiful pole bean was grown for us by friend and seed librarian Pam Quackenbush of LTPL Grows. Proceeds from the sale of this bean will go to support our seed library work.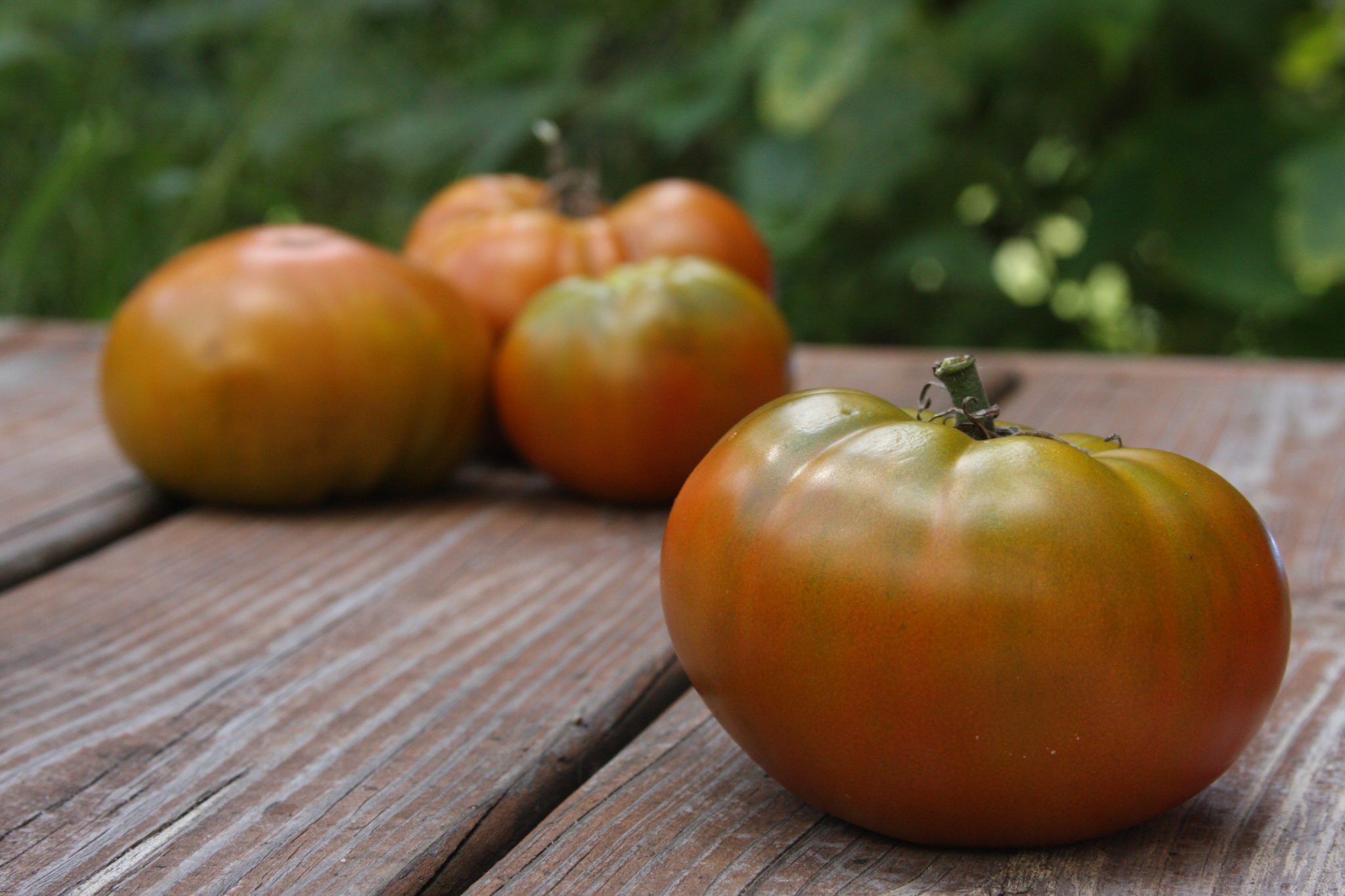 $4.00/ packet –  min 15 seeds
Thorburn's Terra Cotta Tomato
This incredible tomato was first introduced by Thorburn's seed company in 1893. Thanks to the hard work and dedication of seed collector William Woys Weaver, this tomato has returned to the spotlight where it belongs! This was our earliest producing tomato this year and quite productive too. The color of the tomato is almost reminiscent of pumpkins on a fall day and the flavor is outstanding!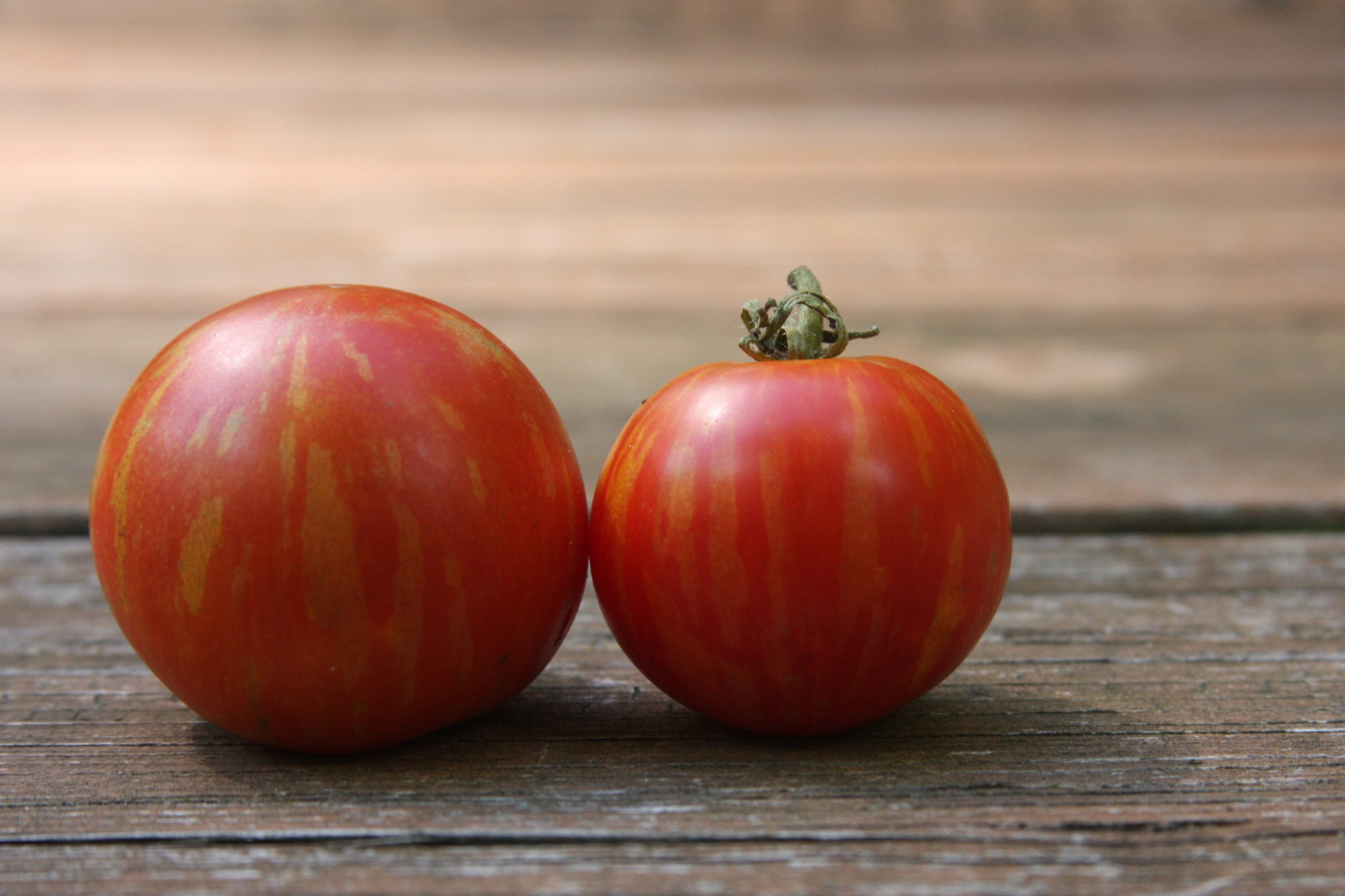 $3.00/ packet –  min 25 seeds
Turkish Striped Monastery Tomato
They say that this tomato seed was collected from a monastery garden in Istanbul, Turkey. It was first offered in the Seed Savers Exchange in 2007. We've been growing these tasty, 1-2 inch fruits here at Small House for three years now. We started with only ten seeds but now we have plenty to share with everyone! They're as flavorful as they are beautiful and are great for snacking and in salads!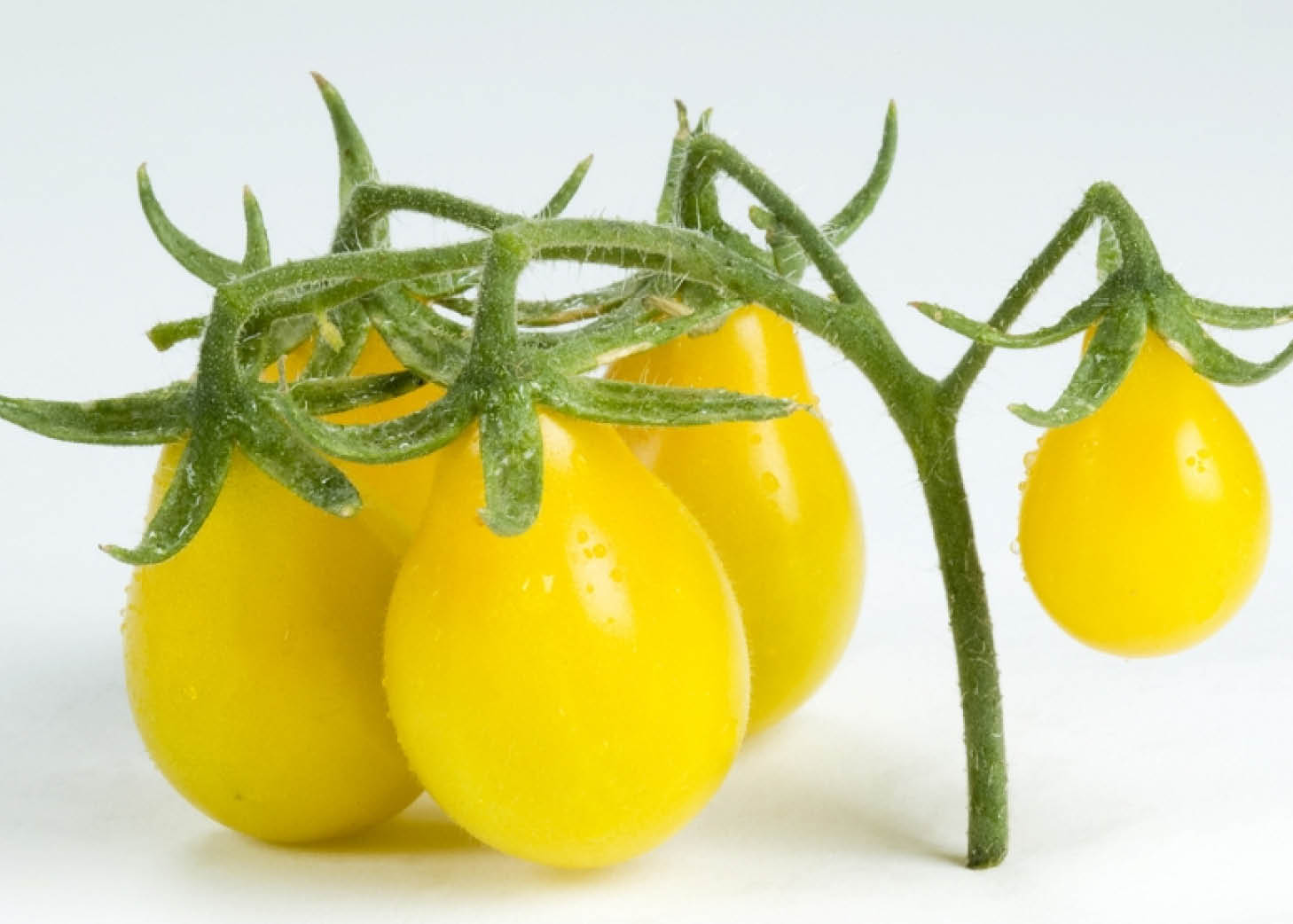 $3.00/ packet –  min 25 seeds
Elijah's Yellow Pear
Very sweet, 1 1/2″ yellow, pear-shaped fruit have a mild flavor, and are great for fresh eating! These seeds were saved from tomatoes grown by eight year old Elijah Cohen of Sanford, MI.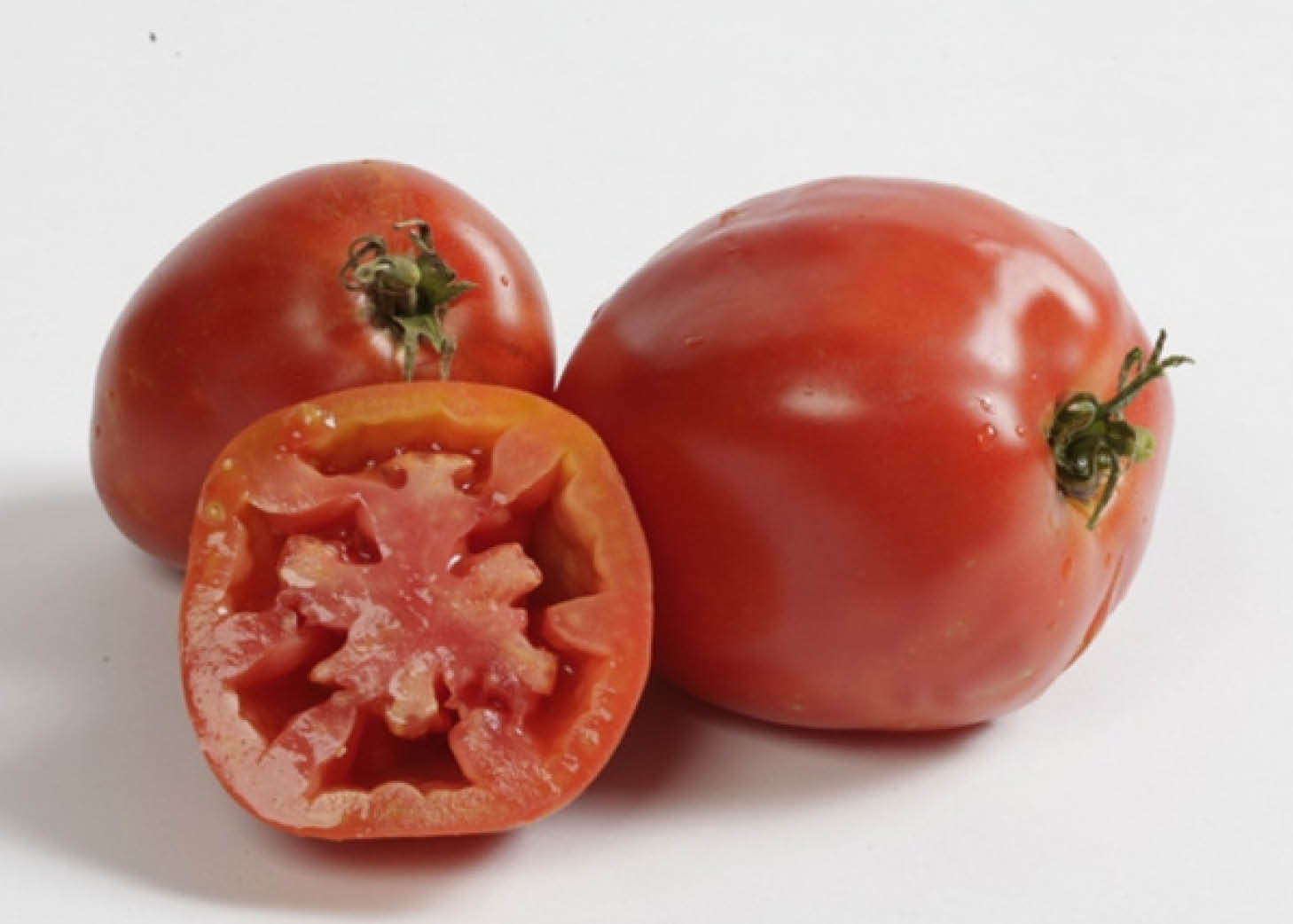 $3.00/ packet –  min 25 seeds
Amish Paste
This variety dates back to 1870. It was first "discovered" in Amish country by Tom Hauch near Lancaster, PA and was introduced through the SSE in 1987. Great for salads, snacking and sauces!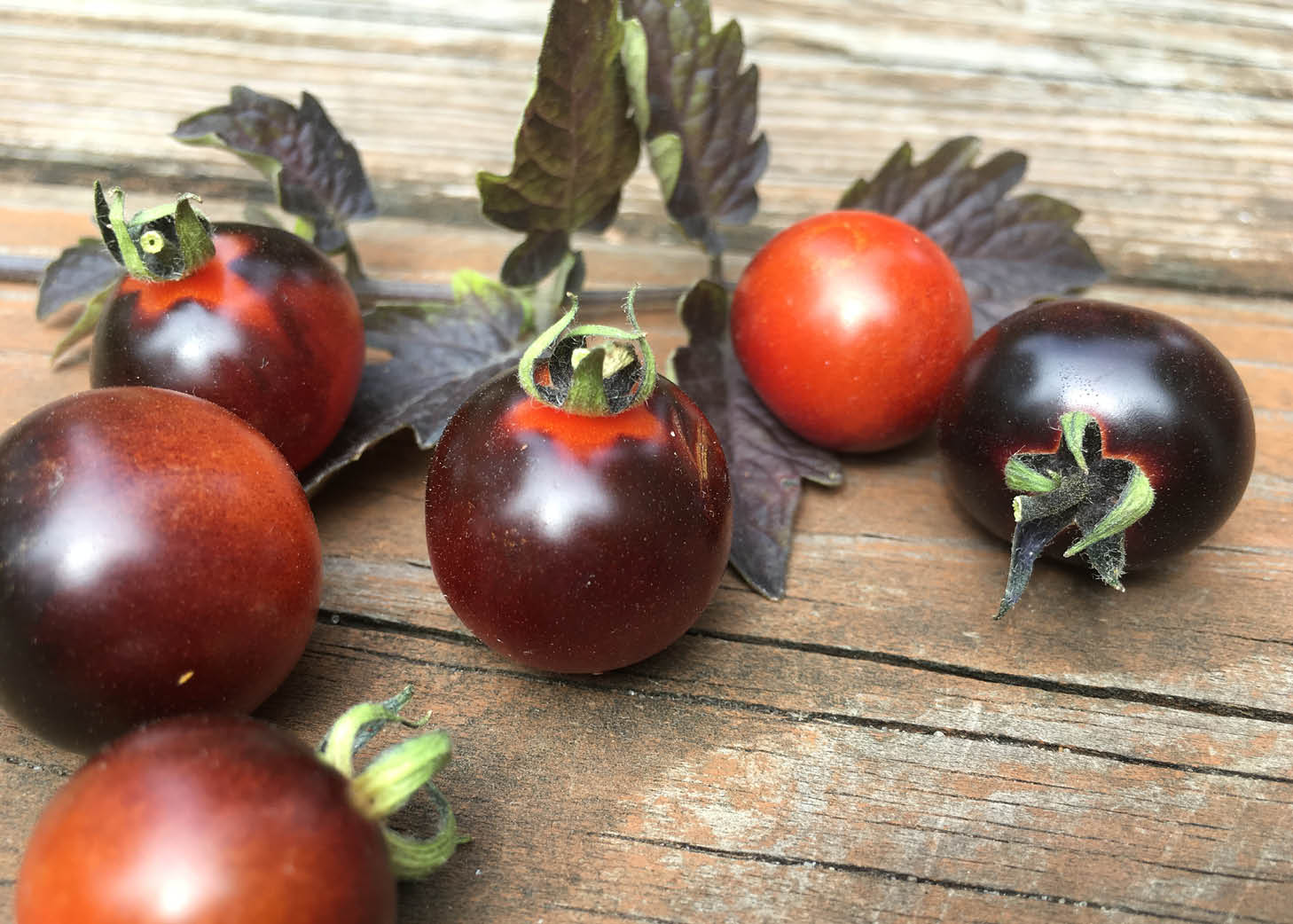 $3.00/ packet –  min 25 seeds
Blueberries
A new tomato from Brad Gates of Wild Boar Farms. These little cherry tomatoes have such dark red and purple colors when they are ripe, they are just as much a pleasure to look at as they are to eat! Great for salads and for eating in the field, these tomatoes are super sweet and very productive.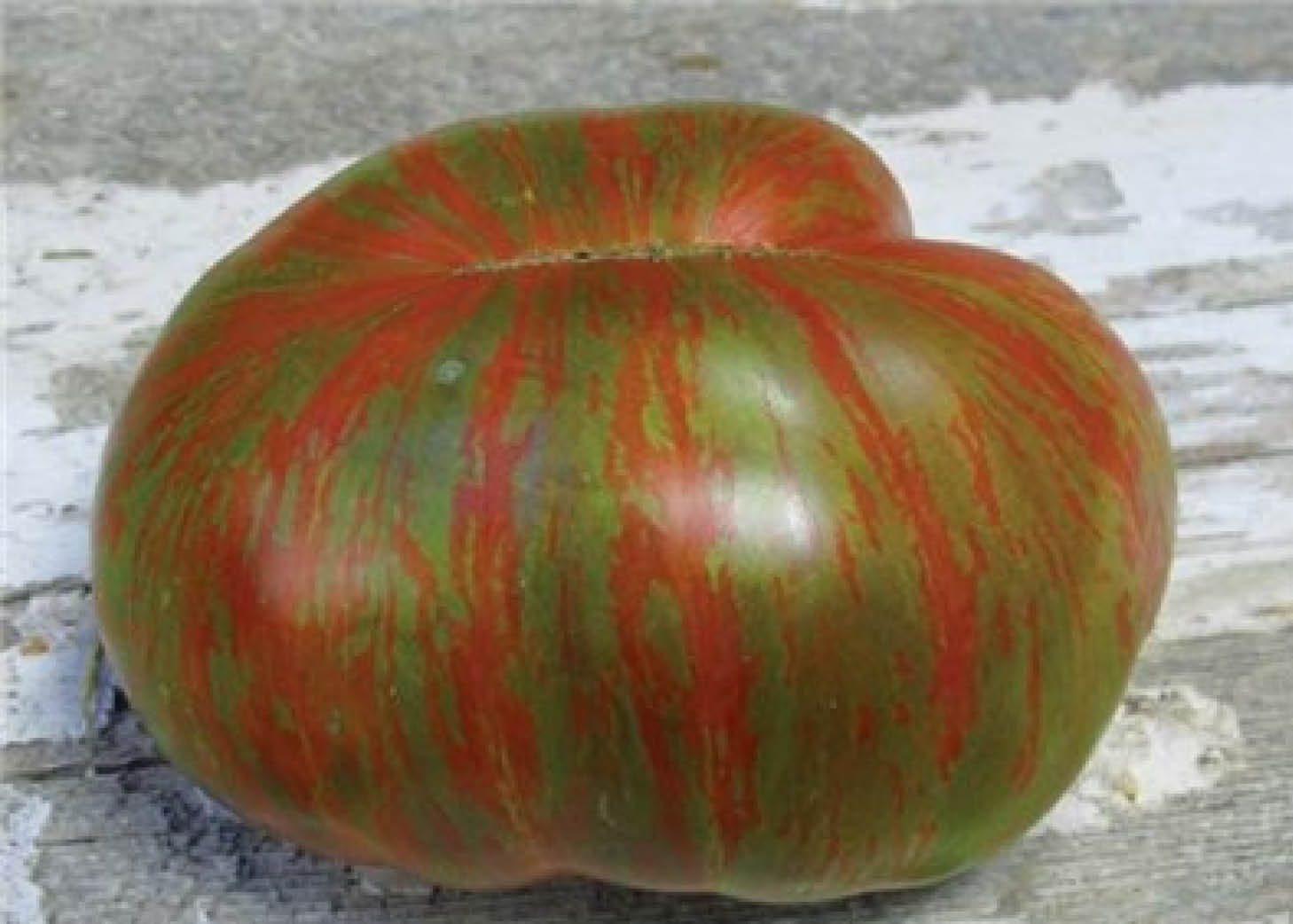 $3.00/ packet –  min 25 seeds
Large Barred Boar
A magnificent tomato, both in appearance and flavor! First introduced by Brad Gates of Wild Boar Farms, we have been growing this tasty fruit at Small House for four years. Large, meaty and great for sandwiches!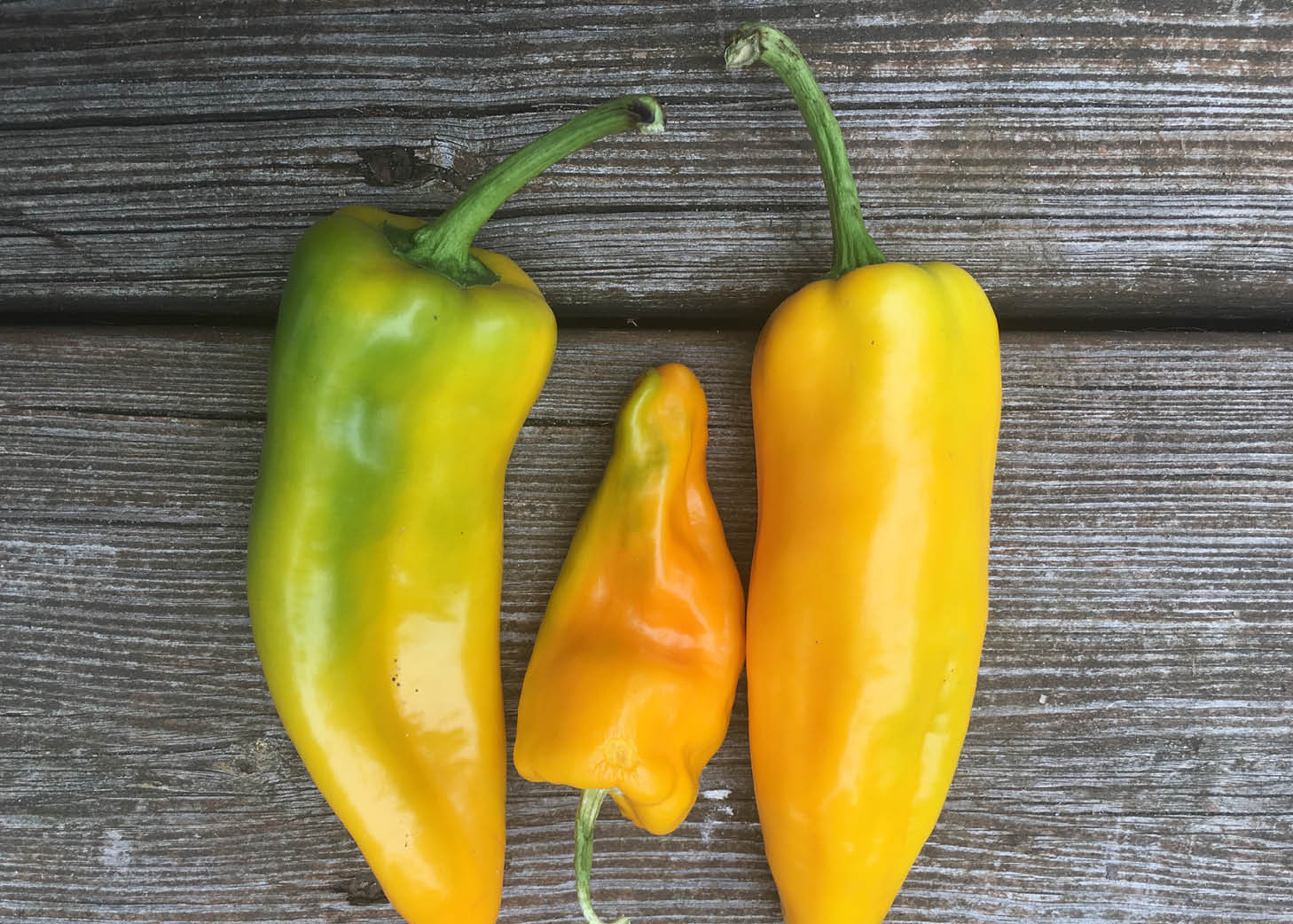 $3.00/ packet –  min 20 seeds
Golden Treasure
We have absolutely loved growing this beautiful and tasty sweet pepper! Large and long peppers ripen to a beautiful golden color. While these Italian peppers are traditionally used for frying, we have also found them to be enjoyable raw.. So sweet! C. annuum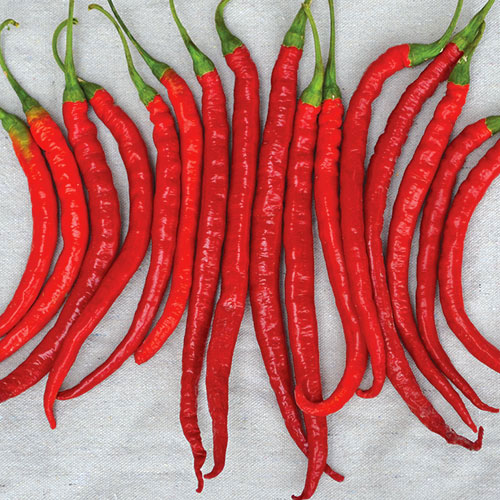 $3.00/ packet –  min 25 seeds
Cayenne
We grow this well-known and spicy pepper for both food and medicine. A heavy producer of slender, long and bright red pods. We have enjoyed growing and saving seed from this variety for a number of years! c. annuum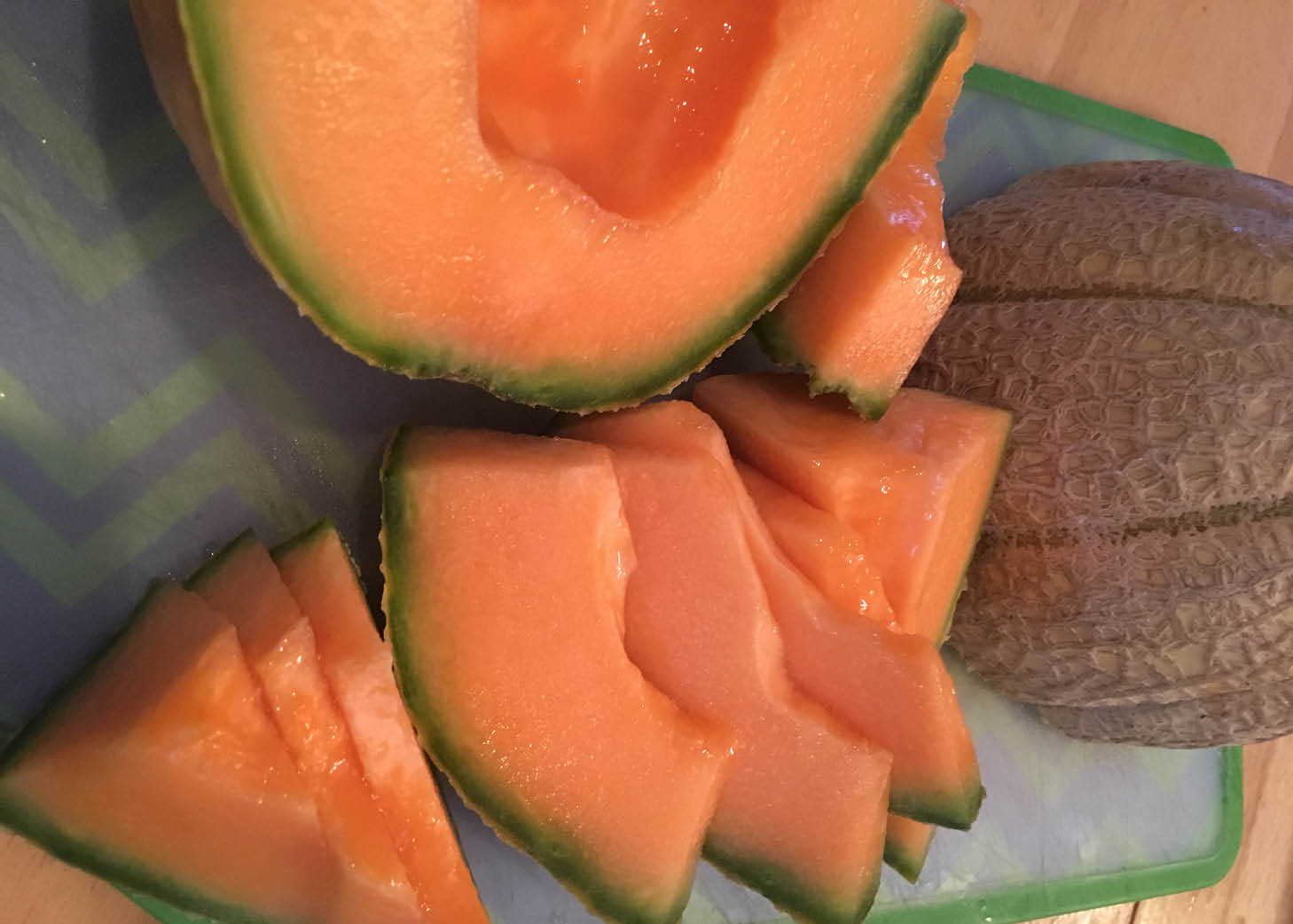 Bay County Honey Rock
The melon that put Bay County, MI on the map! An early and large cantaloupe type melon originally developed by Michigan State University. An AAS winner in 1933.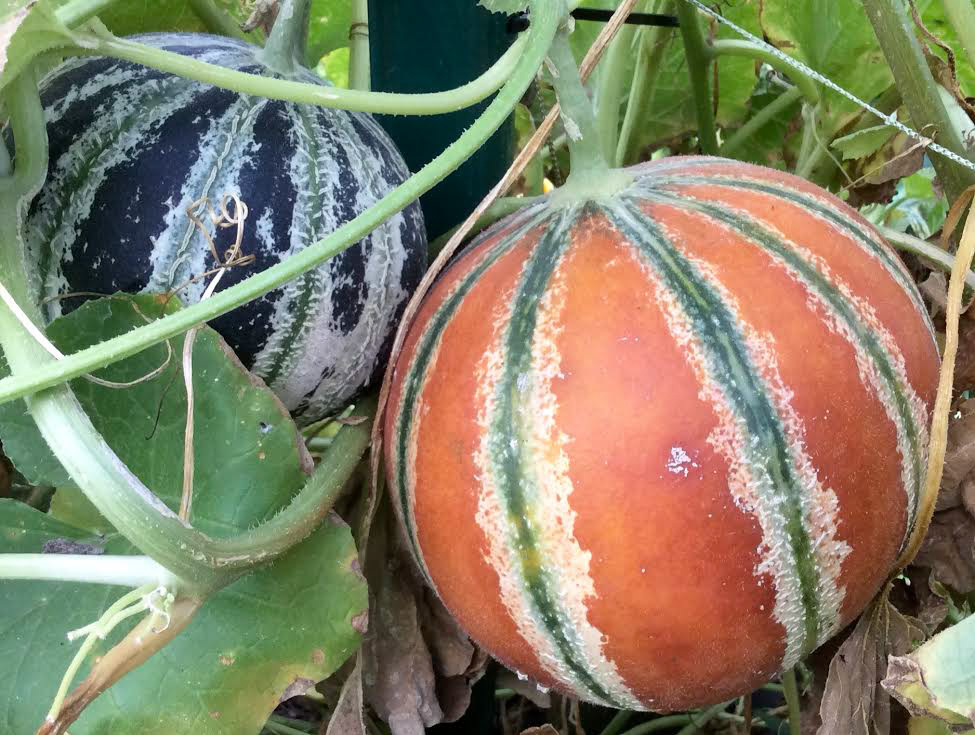 $5.00/ packet –  min 10 seeds
Kajari
An incredible melon first introduced by Joseph Simcox. Gorgeous 2-3 pound fruits and juicy and delicious! Really something special..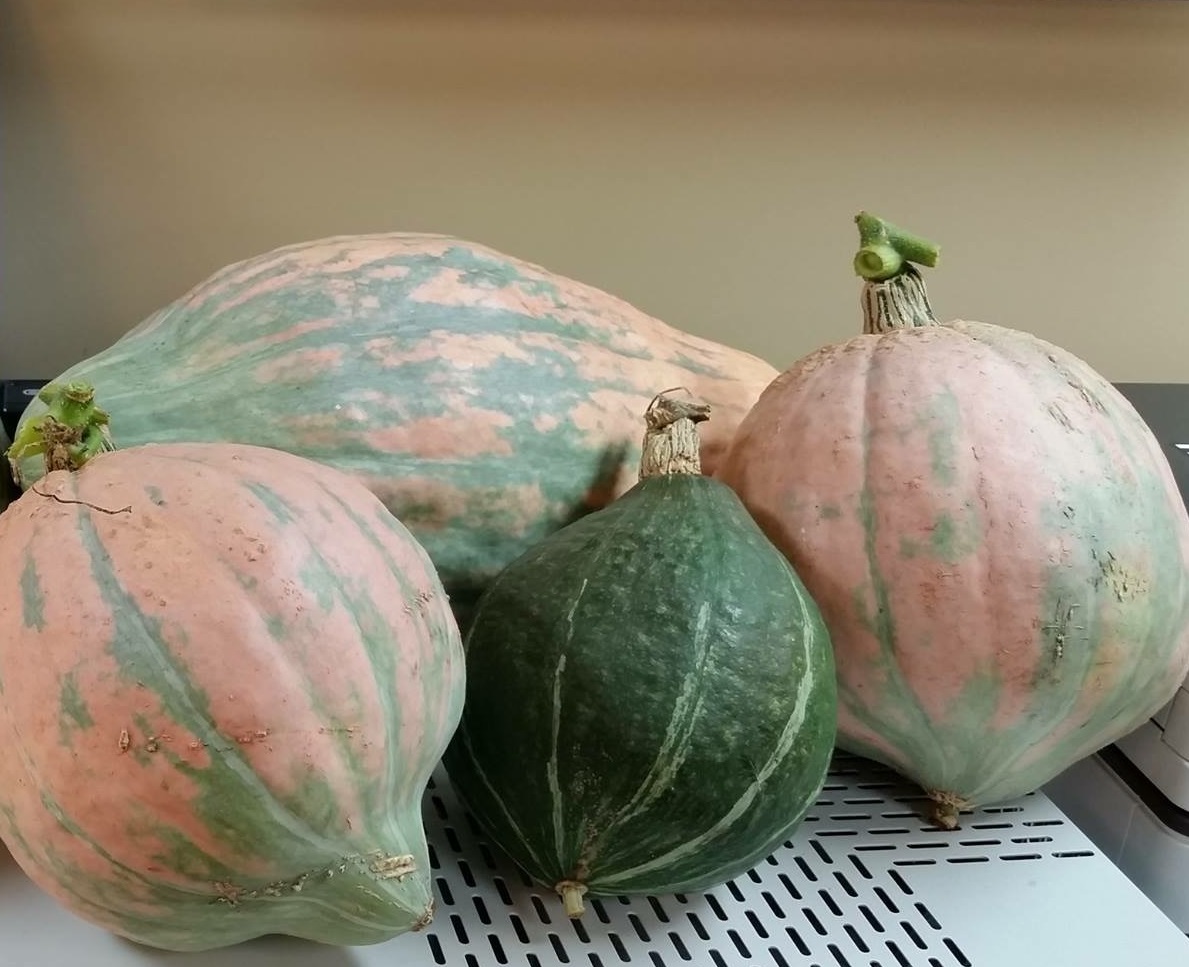 $4.00/ packet –  min 10 seeds
Anasazi Squash
Very rare! Ancient Southwestern squash variety believed to have been grown in Anasazi times. This landrace squash variety is orange-fleshed. The fruits run a wide range of shapes from large banana fruits through slightly flattened spheres. Colors include sea-foam green and salmon. The seeds were found sealed in pottery jars by industrialist George Hoddy in the 1960s. C maxima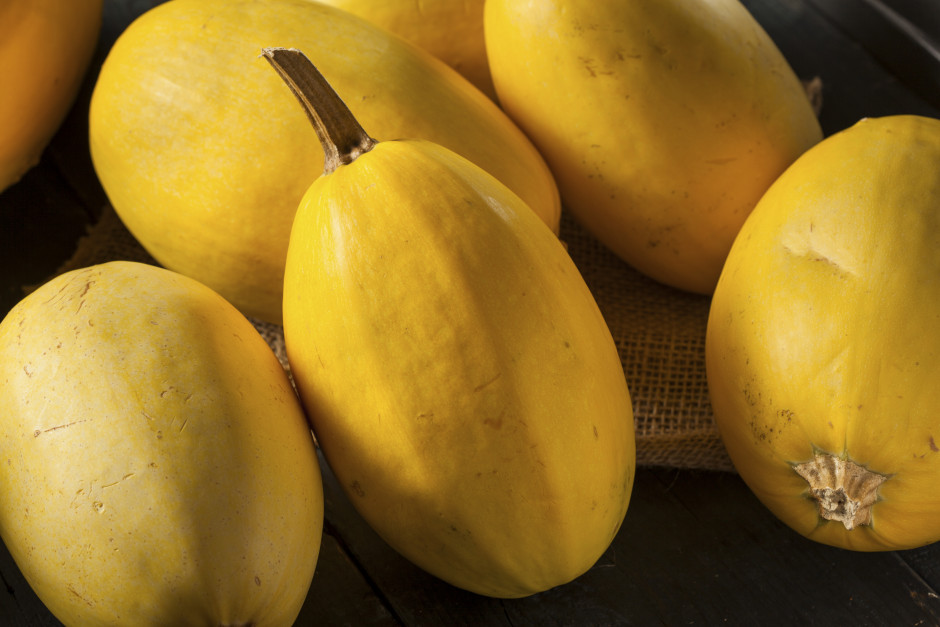 $3.00/ packet –  min 20 seeds
Spaghetti Squash
This is the popular squash with stringy flesh that is used like spaghetti. Introduced by Sakata Seed Co. of Japan in 1934. Can be stored several months in a cool, dry place. One of our favorites!  C pepo
More seeds to be added .. Check back later!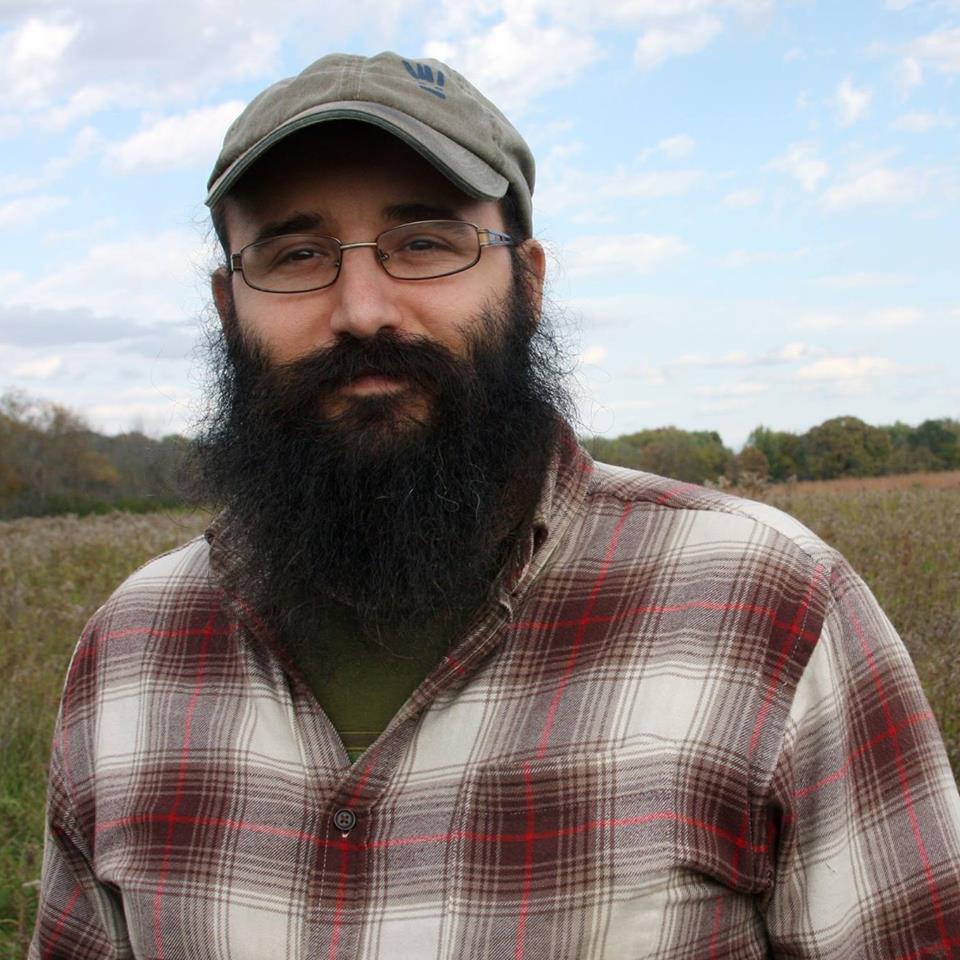 Have seeds you want to share?
Interested in Ben speaking at your event?
Wanna start a Seed Library?
We want to hear from you!